The Roswell Laddertail Paradigm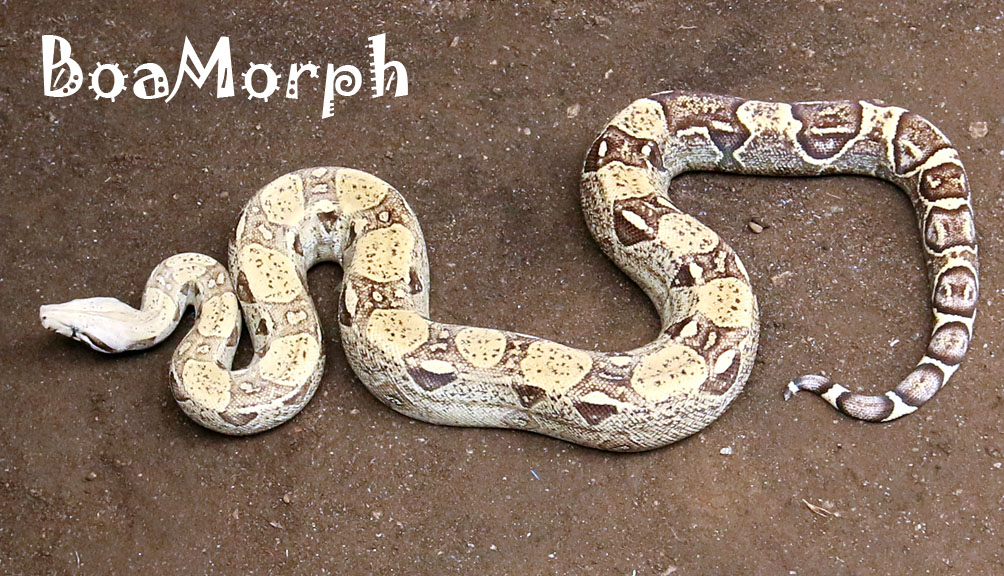 2012 Female Arctic Boa
The 2016 Season
Having produced the small group of RLT het-Sharps in 2013, there wasn't much more to do but wait for them to grow up to breeding size and make sure that we had the right mates for them when they got there. At about 2½ years old, we put both the RLT het-Sharp and Hypo RLT het-Sharp males on a 3½ year old virgin Arctic female in early 2016, alternating the two males so as not to stress either of them too much. There was a lot of good courtship activity, but she never ovulated - she just wasn't ready to go yet.
RLT het-Sharp, 50% Bcc (Suriname/Guyana)
50% Guyana Bcc Sharp-Albino Female
Another breeding we did that same season was the '07 male RLT "Not-het-Kahl" to a 50% Guyana Bcc Sharp Albino female that we had been slowly raising since 2010 for exactly this purpose. We did not get a great litter from her, but she did give us a small number of live babies on October 5, 2016, which included some gorgeous 50% Bcc (Guyana/Suriname) RLT het-Sharps (the '07 male RLT is 50% Suriname Bcc) - very strong Bcc influence in these RLT het-Sharp babies, particularly the rosy red sidewall medallions. As of this writing in early August, 2017, these babies are not even a year old yet, and are years away from breeding for us, so for now there is no more to say about them except that they are growing very slowly and happily in a rack here at BoaMorph awaiting special mates some years down the road.
The 2017 Season Finally Arrives

The excitement this year was that with January 2017 approaching, the three female 2013 RLT het-Sharps had all hit the 12 to 15 lbs range, and so we knew that both they and the two males would be potential breeders this season. For these three girls, we had this stable of studs lined up: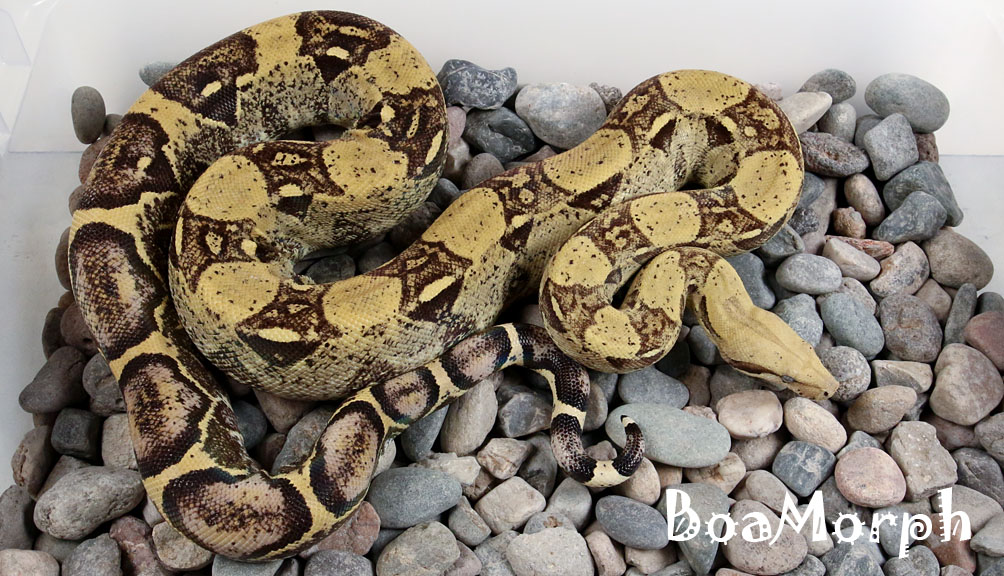 Male BWC Snow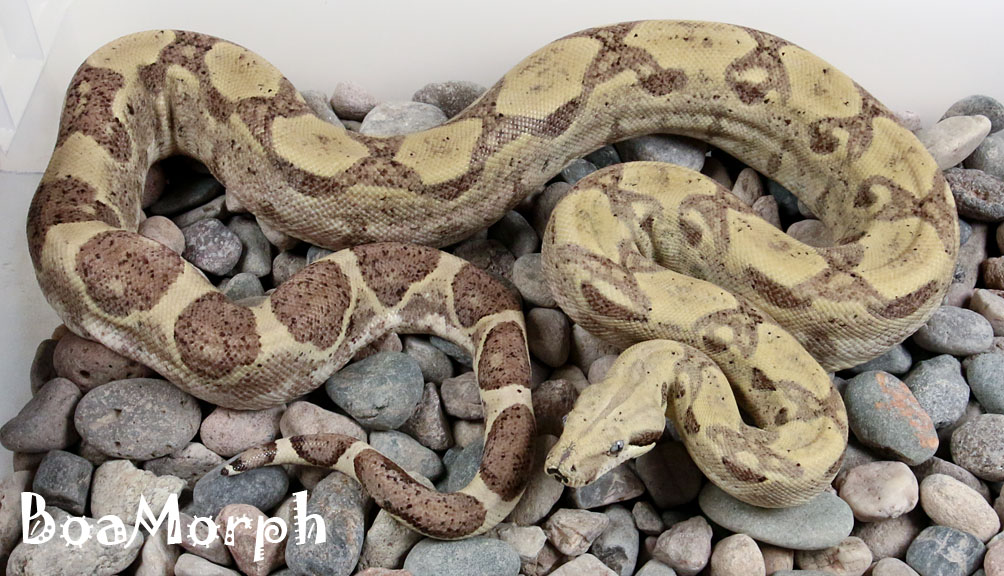 Male Arctic Glow
We had the male Arctic in with RLT het-Sharp female #2 from mid-January through early March, 2017, and observed only occasional interest in courtship from the male. During the first half of March we tried the BWC Snow on her, but he didn't show much interest in her either. On March 13 we removed the BWC Snow from her cage and offered her a rat but she did not eat it. We left her by herself for a week, after which she refused another rat on March 20. We were a bit baffled, figuring that of eating and breeding, she should be doing at least one or the other. So on March 22 we introduced the male Arctic Glow to her. He was all over her immediately, and looked to be locked up with her for about 24 hours, after which neither he nor either of the other two males showed any interest in her whatsoever.
We figured that one of two things must have happened: either she ovulated right then and there, or she wasn't going to do anything for us this year and the male Arctic Glow had just shown initial interest upon introduction as males sometimes do regardless of the female's condition. We did not observe a clear ovulation, but she soon went into a shed cycle and eventually shed on April 21, 2017, the timing of which would have been in the right range for a post-ovulation shed (POS) if she had ovulated at or shortly after the time she was copulating with the Arctic Glow. After that shed, we found her consistently coiled on her hot spot in the classic heat conservation position with an external body temperature of 88 F, which gave us a pretty good idea that this girl was going to do something for us this year after all.
An April 21 POS put her due date at August 4, 2017 (105 days after her POS). She was looking good and doing all the right things until finally on July 29 we found that she had dug her way under the cardboard lining her cage bottom, and we knew that she would be giving birth soon. To accommodate here wish to be hidden, we moved her water bowl under the cardboard with her to prop the cardboard up giving her a nice little cave underneath.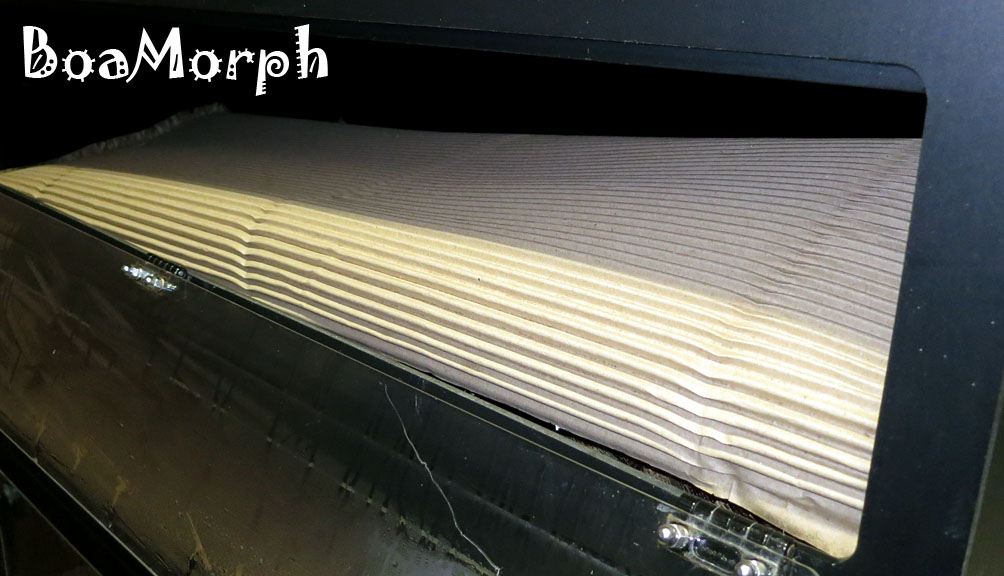 At just POS+100 we were not optimistic about what we would find under the cardboard.
When we found her cage door steamed up on the morning of July 30, we knew that she did not wait for her August 4 due date, and our initial reaction was not optimistic. We had hoped she would hold on for at least a couple more days, as POS+100 can be very much borderline for a healthy litter versus getting premature babies that won't survive. Boas will also often drop litters early if they are carrying many slugs (infertile ova) and only a few or no babies. With the early timing and this girl being a first-time breeder, we had resigned ourselves to the likelihood that when we lifted the cardboard we would see only a sea of slugs and maybe a few premature babies that wouldn't survive the day even if they were alive at birth.
The world's first RLT Sharp/Paradigm Litter
As it turned out, she had just given birth to the first litter of Sharp-Albino and Paradigm RLT boas! And she knew exactly what she was doing on the timing - there were zero unabsorbed yolk sacs, zero big yolk bellies, and many of the babies were already exploring the cage.
It is not often that more than half of the baby boas in a litter are the first of their kind to be produced, but that was certainly the case with this litter which included the following firsts (at least as far as we know):
- RLT ParaGlow -
- RLT Paradigm -
- RLT Sharp-Sunglow -

- RLT Sharp-Albino -
- Hypo RLT ParaHet -
- RLT ParaHet -
Every single baby is also het-Anery! We finally were able to produce this litter that we had been working towards for over 7 years! And now the photos....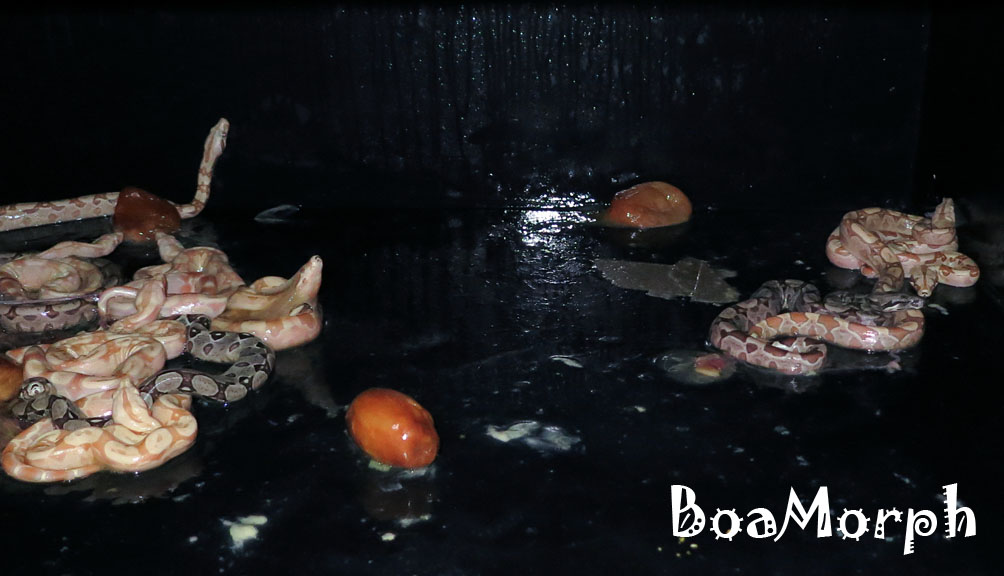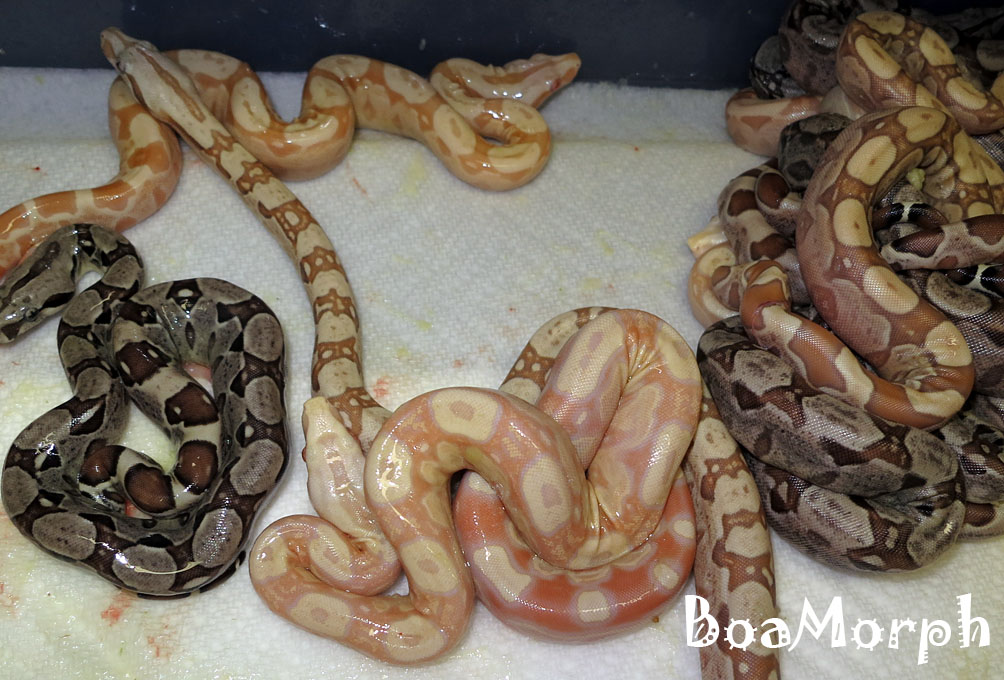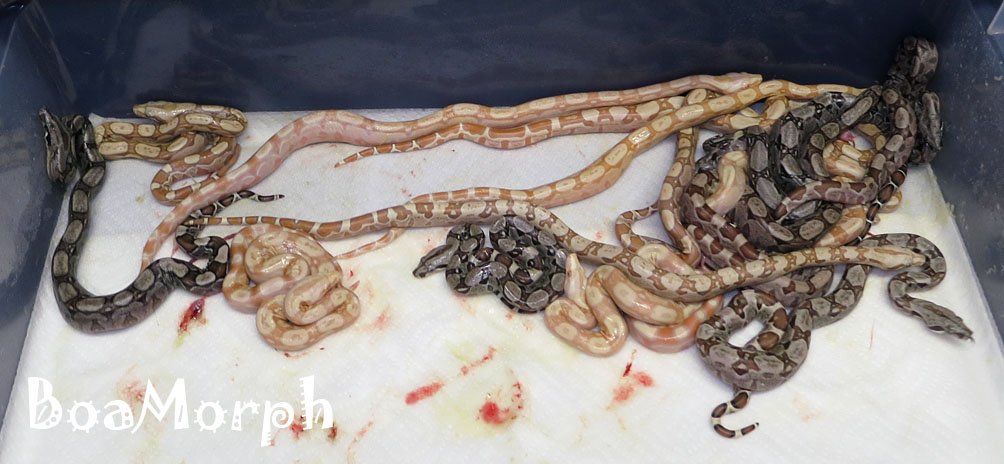 Here shortly after birth, the RLT Paradigms stand out as particularly stunning. But with parents and grandparents that look like this, we know that all of these babies are just going to get better and better with every shed:
Dad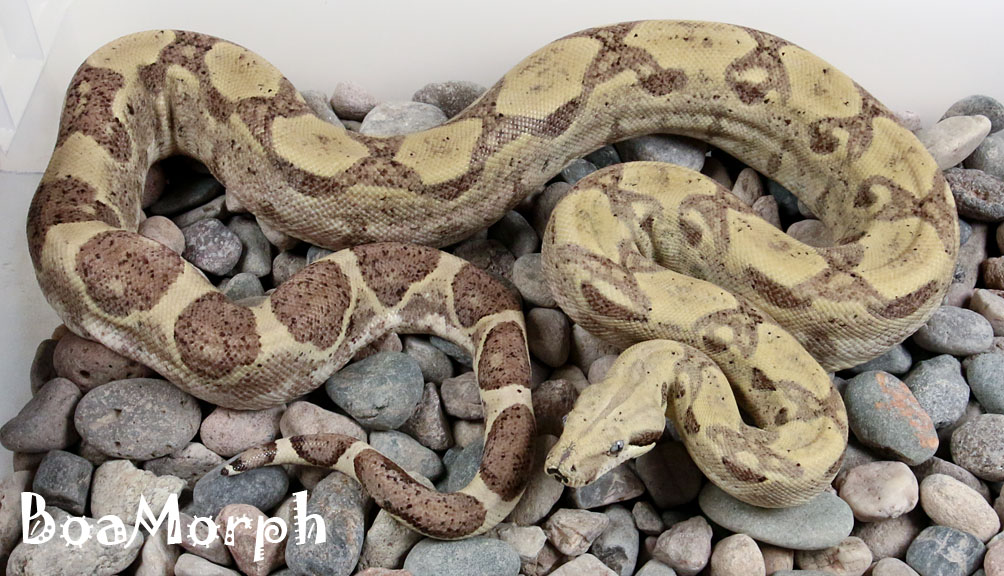 2013 Arctic Glow
Grandpa on Mom's Side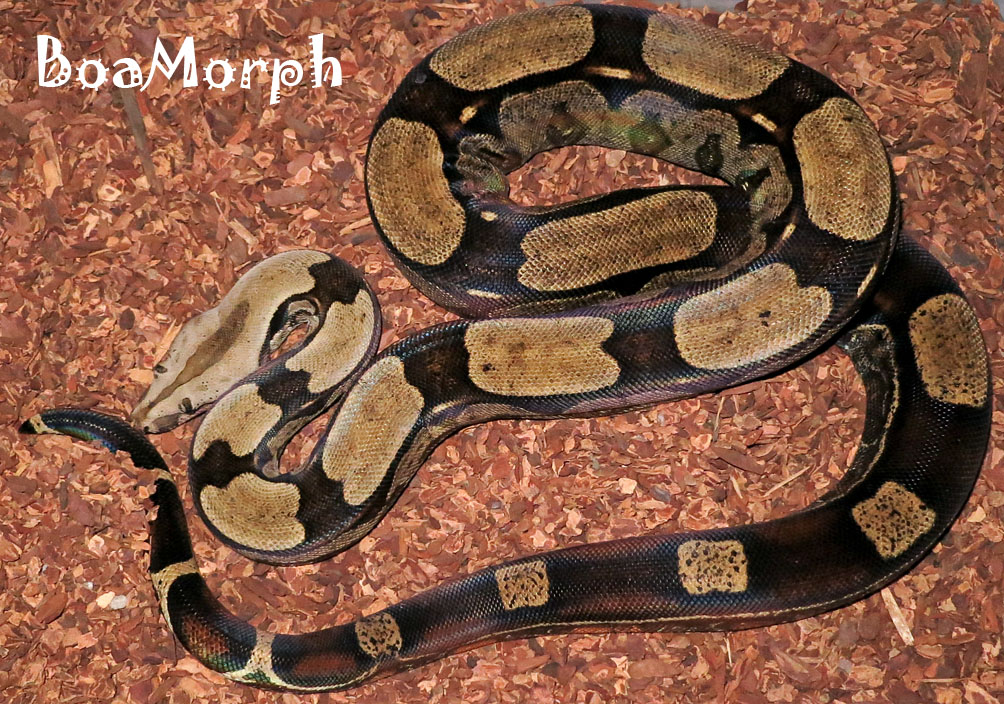 The 2007 RLT "Not-het-Kahl"
Grandma on Mom's Side
2009 Sharp Sunglow
First Feedings

We typically get our baby boas started on live fuzzy or hopper mice that we get on Wednesday every week. Wednesday August 9th came a little early for these babies as many of them had not even completed their first shed yet, but we decided to offer them all live fuzzies anyway, and all but two of them ate - in fact, the RLT ParaGlow het-Anery, which had not yet shed, took a fuzzy right out of my fingers. We could not be happier with the health and quality of these babies - they are SOLID!
Post-shed Photo Gallery

RLT Paraglow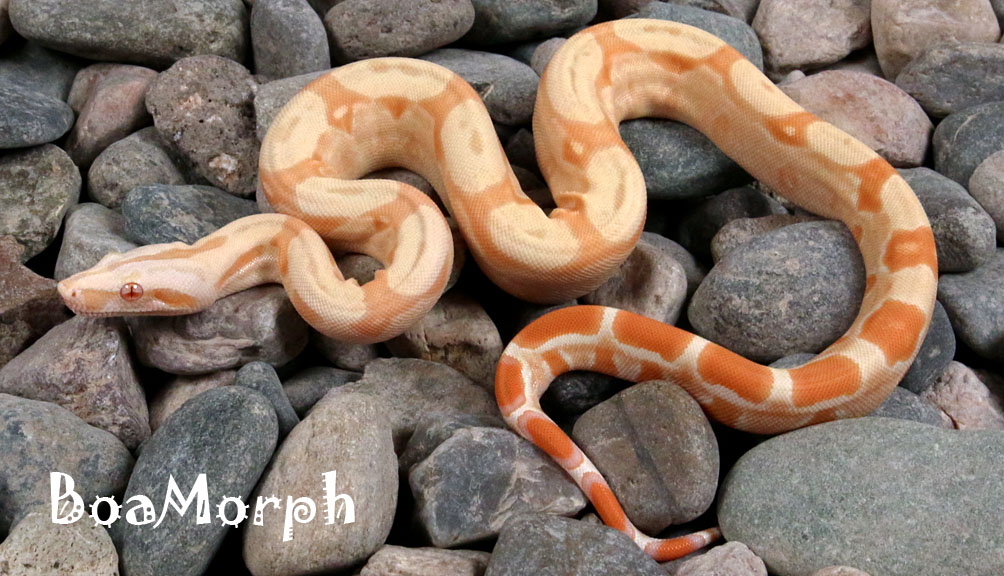 RLT Sharp-Sunglow
Hypo RLT ParaHet